Here's a blog you should visit:
  Sufficently Peculiar.  Written by Henry Beer (who designed the cover of the first Buskers album), here's his descriptor of what it covers, which is pretty right on:


"Music: obsessive hoarding of, digging obsessively for, possessed by demonic visitations of,
compensating for various shortcomings with, plagued by dearth of and inundation of, grieving for surrendered copies of or lost opportunities/memories of, zealous loyalties to outmoded formats/forms of, explorations of meanings surrounding the possession of, ridiculously pedagogical listings of, casual ignorance of, etc."

A recent,  typically ruminative, maybe obsessive, quirky. somehow satisfying entry involves the pairing of  record covers: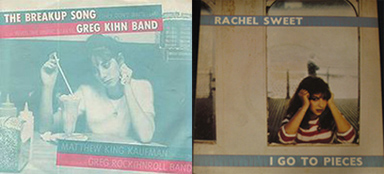 ...what can I say, Henry must have some free time on his hands (:-)  He was also kind enough to mention our new album and CD release concert. 
"From the opening chords it's clear that The Buskers have sharpened their production and sweetened their sound. The vocal mix is the best yet, with terrific backup singing and the instrumentals are smoking. Not literally. Favorite song (so far): "You Devil, You Dog." (or is it dog/devil?)"
I should have titled it Devil Dog.